Vu Truong Giang - 19/05/2021 -
0
bình luận
In the trend of international economic integration, the recognition of degree in developed countries is increasingly appreciated.
Therefore, many students choose to study abroad through affiliate programs as an optimal solution to access advanced education. Training links with foreign universities are becoming a trend. Ho Chi Minh City Open University has caught up with the trend quickly and has launched programs associated with prestigious universities. One of them is Rouen University (France) ,... The advantage of this affiliate program is that with a very low cost, students have the opportunity to study abroad and get a French bachelor's degree.
The opening ceremony of the affiliated course of Ho Chi Minh City Open University Ho Chi Minh city with Rouen Normandie University (France)
In terms of learning methods, students can study professionally in English with well-trained faculty in many countries. In addition, the Rouen program also focuses on applicability and practicality, designing the program with many soft skills development activities to develop students' abilities, meeting the criteria of employers.
The cost of studying an international affiliate program is much cheaper than studying abroad. Many families with average economic conditions notice the cost of international affiliate programs at the Ho Chi Minh City Open University, is a reasonable investment for the future of children. In addition, parents also want their children to have time to prepare for studying abroad, get acquainted with the teaching environment according to international standards first; avoid the risk of returning home if it is not possible to integrate.
Moreover, the attractive scholarship policy also affects the choices of parents and students. With the desire to encourage learning for students, Ho Chi Minh City Open University and Rouen University (France) decided to award many scholarships worth from 20% up to 100% of tuition fees per year.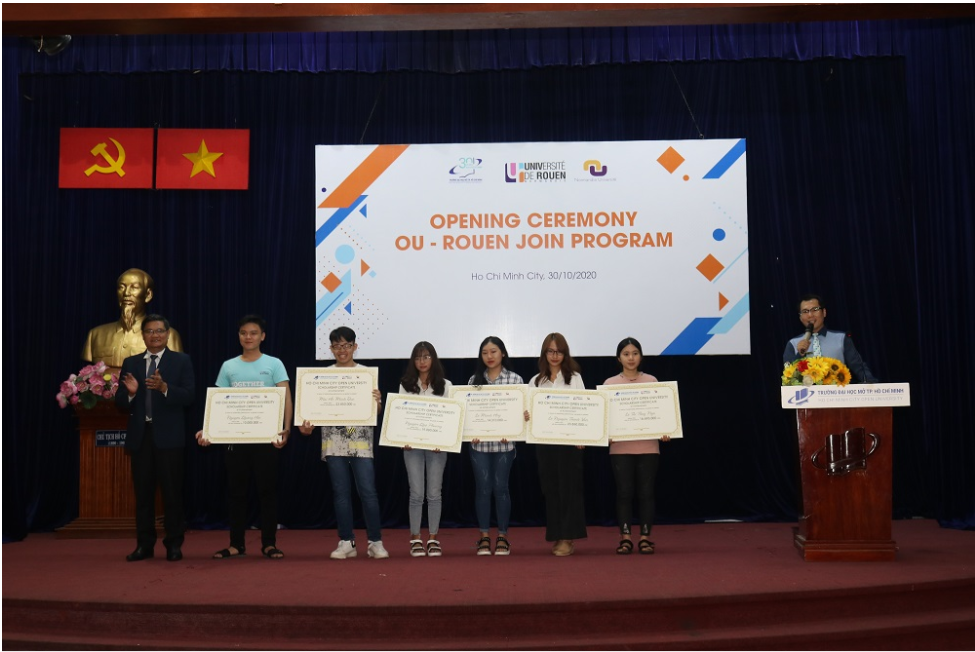 Assoc.Prof.Dr. Nguyen Minh Ha - Rector of Ho Chi Minh City Open University awarded scholarships to program students.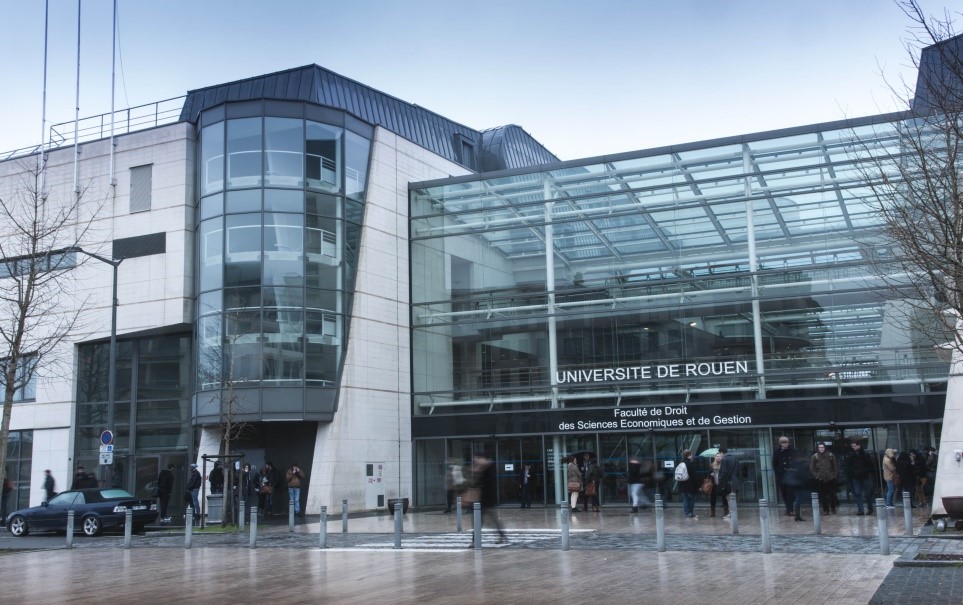 De Rouen Normandie University (France)
ROUEN PROGRAM (FRANCE)
How to apply:
Phase 1: Graduated from high school, IETLS 4.5 or passed the entrance exam.
Phase 2: 3.4 year university students, IELTS 6.0 or equivalent.
Form of training:
Phase 1: studying 2 years in Vietnam; Phase 2: studying for 1 year in Vietnam or France; Rouen University grants a degree.
Specialized training: Bachelor of International Trade.
Highlights:
- Practice accounts for up to 60% of the study duration.
- Learn and teach in English.
- Participate and practice at international enterprises and community projects.
- Tuition fee: 17.8 million VND/ semester.